Therapy Rates & Session Information
All sessions are Hands - On and are for the full allotment of time.
Sessions are scheduled for 60 minutes ( 1 Hour) 90 minutes (1½ Hours) or 120 minutes (2 Hours)
* With the exception of certain Energy Sessions, which require prior discussion,
below is the list of pricing for most of the massages:
60 Minutes ~

$65.00





90

Minutes ~ $95.00

120 Minutes ~ $125.0

0
The above rates are for Swedish Massage, Deep Tissue, Sports Massage, Therapeutic Massage, Cranio-Sacral, Massage for Headaches and Relaxation Massages. I naturally incorporate energy work into each of these massages, including Trigger Point and Reflexology techniques.
* Should you request a full session of Polarity or Reiki after we've discussed them, the rate increases, dependent upon the time of your session.
I am Happy To Travel And Bring My Table to Your door, However The Distance between Us Will determine that one-Time Expense

.
If you are a couple and are booking separate massages the travel fee is only assessed once.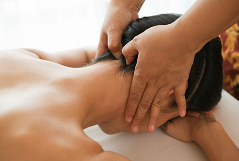 Should your company be interested in my full body massage services which require a table, I can
accomodate that request, and welcome the
opportunity to discuss that type of event with you.
corporate Chair
Massage Events
Hourly Fee ~ $75.00
* * * * * * * * * * * * * * * * * * * * * * * * * * * *